Glioblastoma in the Media
We're starting to see Glioblastoma more and more in the mainstream media. Awareness of glioblastoma is increasing. Below is a list of some of the things we are reading and watching right now. Keep checking back here for more recommendations for patients and caregivers alike.
What we're reading right now:
The Living Room by Amanda Lamb

A mother's glioblastoma diagnosis and a daughter's role as her caregiver, advocate, and protector. 80 days of love and laughter in The Living Room. A story about the transformative power of caregiving, death, and ultimately healing. 
Cycle of Lives by David Richman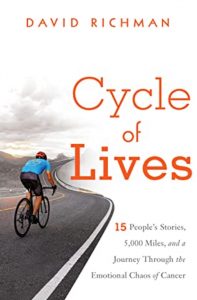 These moving stories of 15 remarkable caregivers, survivors, and loved ones explore the emotional aspects of a cancer diagnosis. A thought-provoking collection of powerful stories.
What we're watching right now:
Lenox Hill on Netflix

Lenox Hill follows the transition of a community hospital to a place where neurosurgery care is provided as well. The documentary follows physicians and patients, several of which have glioblastoma as they navigate the disease.