2020 Neil Peart Neurosurgery Research Award Update
Glioblastoma is one of the most aggressive and serious forms of cancer that can affect the brain or spinal cord. In January of 2020, an amazing musician lost his life to this deadly cancer. Neil Peart, the Canadian drummer of the band Rush, left a lasting impact on rock music and touched the lives of countless fans. Many of these people decided to honor his last wishes and donated to the Glioblastoma Foundation in order to pay tribute to their hero. Due to the incredible outpour of support from Rush fans in honor of this rock legend, the Glioblastoma Foundation initiated the Neil Peart Neurosurgery Research Award in July 2020. This award is given annually to encourage neurosurgeons to improve upon and innovate surgical techniques and therapeutic methods for Glioblastoma.
The 2020 recipient of the Neil Peart Neurosurgery Research Award was Dr. Zachary Gersey from the University of Pittsburgh. His work focuses on brain organoids derived from the patients' own stem cells that are then injected with glioma stem cells thought to be responsible for glioblastoma recurrence after surgery. This leading-edge research will allow researchers to decipher important differences between normal brain tissue versus transformed glioma stem cells. Additionally, it will allow clinicians to take an individualized approach to determine the important molecular characteristics and pathways of growth of each patient's tumor in order to better target it with drug therapy. This inspired research and surgical innovation is crucial for the prevention of glioblastoma recurrence after surgery and has the capacity to change countless lives. Along with the Neil Peart Memorial Fundraiser, the Neil Peart Neurosurgery Research Award is a keynote initiative of the Glioblastoma Foundation in honor of the man whose life and career was cut short due to this terrible cancer. Together-- whether you are a Glioblastoma patient or family member, Rush fan, or merely a Good Samaritan-- we can transform glioblastoma therapy.
One man, and avid Rush fan, who was particularly moved by Neil's death was Steve Brown. Brown became a huge Rush fan as soon as he first heard their albums in 1981 and has remained a loyal fan due to their incredible musicianship, composition and lyricism. As a professional musician himself, Brown was inspired by Neil's drumming skills and creativity but also the substance and range of his lyrics. Brown was also moved by Neil's personal strength,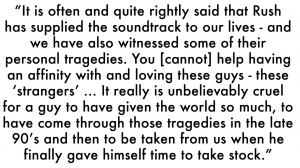 as his first daughter was tragically killed in a road accident and his then wife died from cancer a year later. Despite these tragedies, Neil soon returned until Rush retired from live music following their 2015 tour. After fighting glioblastoma for over 3 years, Neil Peart passed away on January 7, 2020. According to Brown, "It is often and quite rightly said that Rush has supplied the soundtrack to our lives - and we have also witnessed some of their personal tragedies. You [cannot] help having an affinity with and loving these guys - these "strangers" … It really is unbelievably cruel for a guy to have given the world so much, to have come through those tragedies in the late 90s and then to be taken from us when he finally gave himself time to take stock."
Neil Peart left a huge impact on Steve Brown and millions of other people, showcasing the power music has to uplift and inspire. In Neil's honor, Steve Brown started RUSHfest Scotland (RFS) in 2014, an annual one-day fan convention in honor of Rush where all profits go to registered cancer charities. According to Brown, the convention's mission is to "bring like-minded souls together for one day a year to enjoy our favorite band - and in the process raise money for cancer charities."
Most recently, the Glioblastoma Foundation was the grateful recipient of the RFS 2021 proceeds. This will be used to fund the aforementioned Neil Peart Neurosurgery Research Award with the goal of innovating glioblastoma surgical techniques and treatment. We graciously accept RFS's donation and encourage them to keep up the noble work they do. Every dollar that is donated or fundraised for the Glioblastoma Foundation has the capacity to take us one step further in the mission of transforming therapy and finding a cure for glioblastoma.
To learn more about the many ways in which you can get involved in the Glioblastoma Foundation's keynote initiative, the Neil Peart Neurosurgery Research Award, please see links below.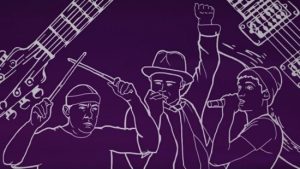 GF Rock Legends Fundraiser to Benefit the Neil Peart Neurosurgery Research Award 
GF 2112 Memorial Fundraiser to Benefit the Neil Peart Neurosurgery Research Award 
©2021 Glioblastoma Foundation. All rights reserved.