Caroline Wright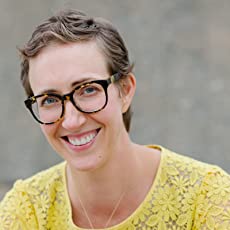 My name is Caroline Wright. I am a cookbook author. I started getting headaches while working on my third and most ambitious cookbook in 2017, after having just moved to Seattle with my family less than a year before. As a working mom of two preschool-age boys, I went to my new doctor after my headaches intensified, coupled with panic attacks that left my mind blank. After my doctor explained the nature of migraines and the need to strike a better work-life balance, I volunteered that my headaches were different than what the doctor described – a memorable one had been localized behind my right eye. Still without much concern, my doctor ordered an MRI just to be sure.
That routine MRI revealed a seven-centimeter brain tumor—about the size of a clementine—in my frontal lobe, just along my motor cortex, behind my right eye where the headaches had been. The blankness I had been feeling were seizures.
The week that followed was a series of consultations, including preparing for my brain surgery exactly one week after finding the tumor. One week after my craniotomy, the pathology of the tumor that had been removed revealed it was a glioblastoma. I was given a survival rate of twelve to fifteen months, and the results of the early testing offered no hope whatsoever.
I re-directed my life's focus after my diagnosis, letting go of obligations and understanding innately that it was my job to, simply, find hope and health wherever I could within my body and circumstance. I trusted my capable doctors in this new city of mine and followed their recommended path of treatment but chose to trust myself as a knowledgeable participant in my care also. I considered every aspect of my life and made adjustments to become more gentle, more attuned, to my body and mind through diet, gentle exercise, and nurturing sources of strength like the lifelines they proved to be. My doctors commented that I was the only patient they'd ever seen grow healthier through treatment, losing weight and gaining energy, even while enduring the course of intense radiation and chemo.
The process of trusting myself, of mining for hope from every possible source, created a life force of its own that took on more power than any fear I had of my diagnosis. It gave me a life-affirming, empowered philosophy toward patient-hood, and a consummate belief that hope is possible even in the most hopeless circumstance.
I have been cancer-free for five years. My work since my diagnosis has been solely focused on my children and family, on gratitude for my community that rose around me when I was diagnosed, on helping to spread the hope I found within myself. This work began during my treatment while writing two books for my sons: a children's picture book to prepare them for my possible death called Lasting Love, eventually released in summer of 2019 by Random House, and a bound collection of my online journal writing from the year of my treatment called The Caring Bridge Project that I hoped would comfort them as adults.
After finishing treatment and stepping beyond the boundary of my prognosis, I have worked extensively on the subject of parenting through a terminal illness, including leading a conversation with a panel of experts at Seattle's prestigious Town Hall, and partnering with the children's bereavement foundation Safe Crossings. I spend most of my days making soup, a regular practice of gratitude for my community, for people who delivered soup to me when I was sick. My most recent cookbook, Soup Club, holds that story and the recipes I share with my community every week.
I have told my story in both intimate and wide-reaching spaces, honored that my experience provides a source of hope that I didn't have on my own journey through cancer. My cancer journey continues, rooted in everyday practice of real gratitude and the healing that comes from being connected to oneself and others. I am humbled and grateful that my journey has brought me to the Glioblastoma Foundation in direct connection with patients and caregivers as a support resource.