Henry Leonard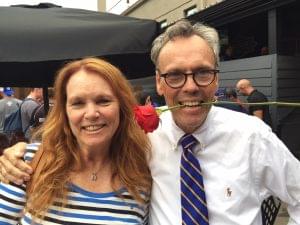 My name is Henry Leonard and I'm a 62 year old man.  I was born into a fine family, and have had every advantage in my life.  By age 25, I earned an Undergraduate degree from Kansas State University in Manhattan, and an MBA from Southern Methodist University in Dallas.  I never married or had kids, but have surrounded myself with many interesting friends from all walks of life.  Today, I own a printing business in Kansas City, along with several residential and commercial investment properties here and the Lake of the Ozarks in Mid-Missouri.  I have always been very active, and enjoy bicycling and travel.  In the last few years, I've hiked to the floor of the Grand Canyon and camped out for three nites -- twice.   Life was by any measure, adventurous and breezy.
 That all changed in an instant.  In early September 2018, I was diagnosed with Grade 4 Glioblastoma. 
 Until that moment, my health had been amazingly good my entire life.  At 5'10", I generally weigh in the 152 - 158 range during the year, spiking after the holidays, of course.  As I write this article, I tip the scale at 146, so I am trying to eat more to fortify my body, mind and immune system.  I am trying to load up on proteins and limit my sugar intake.  My standard breakfast is a green smoothie with protein powder.  I do like beef and potatoes.  My alcohol intake is generally 3-7 light beers about four times weekly.  Since my recent hospitalization and glio surgery, I've been unable to enjoy my usual Happy Hours with friends, so perhaps that has contributed to my weight loss.  
 I was completely unaware of my initial glioblastoma symptoms.  Friends and co-workers now mention that I'd recently become more argumentative with them.  In addition, I was not tracking projects and organizing my thoughts as I normally would. For instance, I journal in my Franklin Day Planner daily and with great detail.  In recent weeks, I'd stopped.  I was falling asleep at my office desk, and taking aspirin for headaches. This was highly unusual as I had not taken aspirin in probably 15 years.  Other friends have told me that my conversations were not lucid or coherent.  I have no recollection of this. 
Since surgery mid September, I have not needed any aspirin or pain meds. My friends suggest my speech patterns have returned to normal. Balance and coordination seem improved.  The outpouring of prayers, and emotional support has been overwhelming.  I do attend a Methodist church regularly.  I  have always felt a closeness with God, but can't say that I exemplify an overly churchy guy. 
 I lost my father to a heart attack at age 52.  He had been an engineer out of Duke University and worked on the Atomic Bomb/Manhattan Project during the war.  My mother turns 100 next January and lives in her own home, by herself with driving and logistics assistance.  Cognitively, she is fine. And my cancer mess is hitting her pretty hard.
 I'm currently working with a team of doctors to develop a treatment plan that will likely include chemo and radiation - perhaps even a clinical trial. In fact one oncologist challenged me to develop a five year plan for my life.  I plan to fight and see that five year plan realized.  With the A Team of medical professionals, family, friends and loved ones that surround me, I am committed to surviving.
 Here's one of my favorite quotes by Maria Robinson:  "Nobody can go back and start a new beginning, but anyone can start today and make a new ending."   That's me.  I am starting today to make a new ending.  One that does not include glioblastoma.
Thanks for the opportunity to share my story.