Dr. Joseph Anthony Zizzi Jr.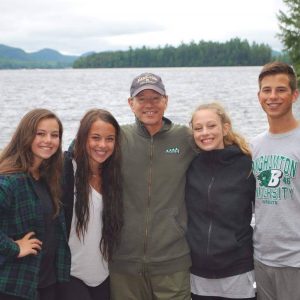 My Dad was the father to 4 beautiful children and a dedicated Physician at Erie County Medical Center in Buffalo, New York.  He was diagnosed with Stage 4 Glioblastoma in August 2017. That December I was stuck in bed after a surgery and ended up knitting over 30 hats for my friends and family as holiday gifts. My Dad loved the hats so much that I gave him two for Christmas that year, and he ended up stealing another one from me the following October. He kept his head warm after his brain surgeries with one of my knitted hats and he wore one every time he left the house. He would tell everyone he saw how warm my hats were. Because of the cutting-edge research and the extensive network of doctors that my Dad had contact with, we were fortunate enough to have about a year of health with him. Although he put up one hell of a fight, my Dad lost his battle with cancer on February 5th, 2019. 
Not all families are as lucky as we were, and I want to help change that in any way possible. As part of my grieving process, I have decided to knit more hats in honor of my father and donate the proceeds to the Glioblastoma Foundation. Very little is known about Glioblastoma Multiforme, including its causes and effective treatments. "The current standard of care (consisting of surgery, radiation, and chemotherapy) is ineffective, and the median survival of a person diagnosed with glioblastoma is about 15 months; without treatment, it is a paltry 3-6 months. "
Watching and taking care of my father as his life came to an end was one of the toughest things I have ever had to face. It is not something I wish on any family, and that is why I am donating 50% of the proceeds from the sale of these hats to the Glioblastoma Foundation.