Justyna Poweska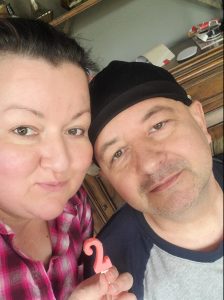 I have been caring for my husband since his first craniotomy in August of 2020. After 98% of his tumor was removed, pathology came back inconclusive. We got the same feedback from several different institutions. We also had the tumor tested for bacterial infections and we explored many avenues to find the root of his 5cm tumor. Since no diagnosis was made — no treatment was implemented. He had MRIs every 2 months, and 3 weeks after his stable MRI in January of 2021, he began having severe headaches, and we ended up in the ER again. His tumor had grown larger than the first one within the 3-week period. He had his second craniotomy on the 25th of February 2021 and was diagnosed with gliosarcoma. His recovery was not as smooth as it was after the first surgery.
He completed standard of care (SOC) and his first scan post-surgery showed a huge mass that we now know was necrosis — presumably caused by the radiation. That also means that within the 4-week break between the beginning of treatment and his second craniotomy, he had a new, even bigger tumor.
During this time, he was dealing with a lot of cognitive issues, such as loss of focus, and was still in recovery from surgery and treatment. His swelling was not subsiding after his radiation and Avastin was added in August of 2021 in addition to his maintenance chemo. He has also been wearing Optune since June of 2021.
We just celebrated 2 years from his diagnosis. He is still on bi-monthly Avastin infusions and a slew of repurposed drugs that he has been taking since completion of SOC.
His cognitive abilities have improved tremendously, but he is left with certain deficiencies. 
In the beginning, we were not told much, and we were not given a timeline. Looking back now, I wish I knew more about possible symptoms and side effects and what to watch out for during SOC and while he was taking dexamethasone. I realize that everybody's reaction is different but knowing which symptoms are alarming, such as a rash and high blood pressure, would have been very helpful.