Julian Hinnant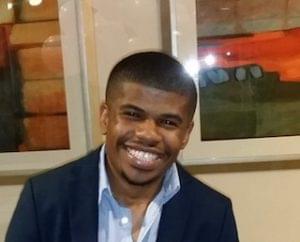 Julian had a smile that lit up the room when he entered it. He was the guy that you wanted to know. He lived a charmed life in the 30 years we had with him, he was my baby brother. In March 2016my mother noticed that my brother was having significant trouble commuting with her and was experiencing twitching on his right side which would last about 20 seconds. Julian suffered from anxiety and OCD and had a fear of going to the doctor. My mother urged him to go to the doctor to see what was going on but he refused. The following month, my job at the time sponsored a game day at the Redskins Stadium for employees and families. This was Julian's all time favorite team so I knew that I'd be taking him with me. Once we did the tour of the locker room, his face froze and he began twitching like he was stuck. My husband and I tried to calm him down, and he did moments later. To be honest at the time I thought that he was just really excited to be there until I talked to my mom about it. We talked at length about what she was noticing about Julian. She feared that he had suffered a stroke because his speech was beginning to slur and one evening on the way home he sideswiped a couple of cars as if he hadn't even seen them. She and I decided enough was enough, we were getting him to the hospital.

We tricked him into thinking we were going somewhere else and drove to the emergency room. I had to beg him to get out of the car. When we got in and Julian was checking himself in I noticed that he wrote his birthday completely wrong and could not even hold the pen to write his name. I was scared, what was happening to my 29 year old brother who never drank, smoked cigarettes or did any drugs. They took him back did some X-rays and emergency surgery was scheduled for the next day on May 6, 2016.

There began Julians journey. He was accepted in the National Institute of Health's Neuro Oncology Branch which was a huge blessing. The staff became our comrades documenting everything about him. After the first surgery Julian came back stronger than ever! We were all so excited. We knew in our hearts that he was going to beat this. He was the comeback kid indeed!! He had a fighting chance.

He was scheduled to begin chemotherapy but on 7/26/2016 they discovered another growth and a second surgery was scheduled for 8/5/2016. This was devastating for Julian and for us. His hair was just growing back over the scar on his head. But like the champ he was he went through it.
Towards the end he had one more brain surgery and because of the rapid growth it was decided that there was no more that could be done. We watched him go from Julian with a million dollar smile to someone that was a total stranger. It became increasingly harder for him to communicate. Eventually he stopped trying to speak at all. One afternoon I walked in and asked him if he was ok. He had a full out foaming at the mouth seizure. I had never witnessed that before. I called the paramedics and they took him to the hospital. He was admitted into the ICU. Julian had been having continuous seizures to the point where he was put into a medical coma to control them. The family met with the team and they let us know that if he woke up from the coma it wouldn't be long.
Julian woke up! Hospice came out and set up the hospital bed at the house for him. He would never walk again. He laid in the bed in and out having tremors throughout the day. Some days he wanted to fight, somedays he didn't. Unable to speak in months, one day he whispered "I'm tired." It broke my heart.

We never gave up hope, despite all that we had learned about the Beast of the cancer that GBM is - we never gave up.

On 3/31/18 I came back to the house after having been at an Easter Egg hunt with my children and Julian had a very high temperature. In the hospital before coming home he had signed a DNR and my mother and I knew what this meant. I called his hospice nurse and followed his instructions on trying to cool him down until he arrived. I sat by his bed holding his hand whispering to him that everything was going to be alright and that I loved him. I told him it was ok to let go that he could take his rest. His breathing changed drastically, his eyes opened bright as if he had seen the brightest light of his life and he passed.

He was the most brilliant photographer there ever was and hands down the best uncle to my 3 girls. His memory lives on and he will never be forgotten! Until we meet again baby bother, until we meet again!