Shawn Scott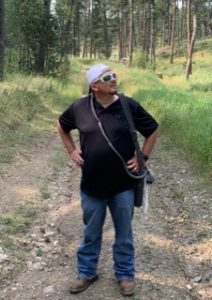 My husband, Shawn, was diagnosed with grade 4 GBM in February 2020. He had his first MRI on February 4th, 2020 after switching doctors due to persistent headaches over 3 months. His first craniotomy was on February 20, 2020. 15 days of radiation and Temodar followed with 5/23 cycles of Temodar. All bloodwork stayed normal and he was able to tolerate the highest dose. Optune therapy using TTFs began in June 2020.
His symptoms returned and his second craniotomy was in February of 2021. Pathology determined the specimen removed was necrotic tissue. What seemed to be a quicker recovery than the first showed to actually be more difficult. Swelling of the area inside the scar area, yet on the outside of his skull, forced us to stop Optune therapy and seek relief for the pain/headaches. Diamox didn't help, and he was eventually put on 12mg of steroids, which reduced the spinal fluid swelling, and eventually, the steroids were tapered.
Currently, he has lost his left visual field, which has remained unchanged in 3+ months per visual field testing. He had hearing damage to the right ear due to radiation in April of 2020, which improved before eventually getting worse. ENT determined there was spinal fluid behind the eardrum and what was thought to be a small polyp just in front of the eardrum. Hearing tests determined he was a candidate for a hearing aid, but before we could have our return visit with the ENT, the ear canal was completely filled with the suspected polyp. No biopsy had been done, but the ENT considered it to be tumor growth due to lack of response to treatment and rate of growth. It is currently protruding from his ear canal.
He's been suffering from severe fatigue, weight gain, and muscle weakness. He has also had increasing bouts of incontinence as well as memory issues. He denies it all and excuses away those issues. He is definitely suffering from mood/personality changes, but also depression and denial. An MRI on August 19, 2021, showed new areas of growth, just as he began Avastin infusions.
On October 14, 2021, a new MRI showed additional growth, now in the neck. We had already been informed that it was growing under his skull and out into the ear canal.
We are currently waiting for proton therapy to begin.